Here at Riding High Farm, we are extremely proud of our horses! RHF makes every effort to acquire our equine staff from rescues, and most of our horses have found themselves homeless in the past and in need of a second chance. Our horses come from second and third careers such as law enforcement, racing, show careers and even the rodeo. RHF uses these horses to help promote mental wellness and emotional growth, along with physically strengthening the rider, in what is known as Equine-Assisted Activities and Services. Some may even say that our horses are therapists themselves! Therapeutic riding allows them to give back and use their special skills and personalities to bond with people. Horses helping people!

Get to know all of Riding High Farm's Special animals; find a favorite below, and choose a way you can sponsor that animal.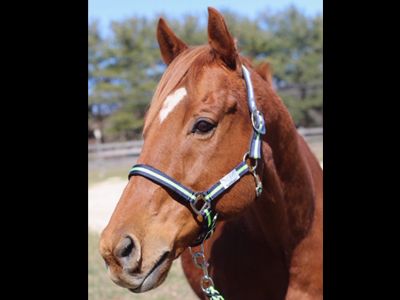 Argo
Argo, AKA Still Waters, is an off the track race horse that not only won in the USA but in Puerto Rico. During the summer you can find him splashing in his water bucket and making a real mess of things.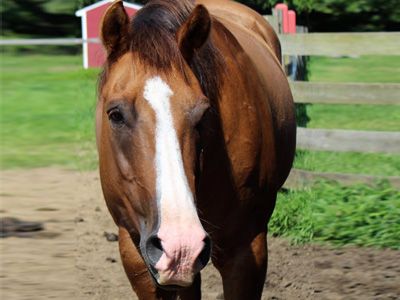 Brandon
Brandon has been with the program for over 25 years. He enjoys semi-retirement but helps out when his "Steady Eddy King of the Service Lift" is needed for wheelchair riders.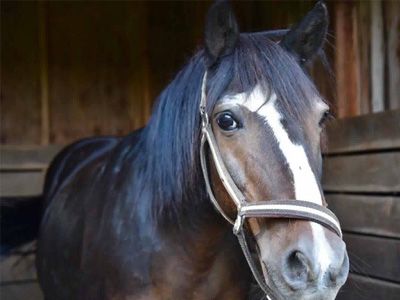 Duncan
Duncan has a puppy dog personality as well as a been there, done that, whatever attitude. He was donated to our program after he found himself "outgrown" by his former owner that moved on to a larger horse.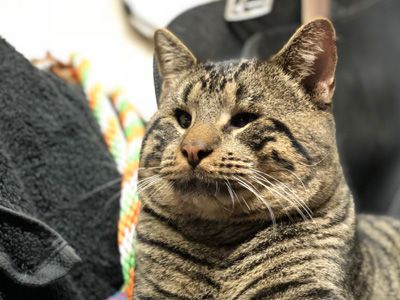 Forest the Cat
Forest was found abandoned at only a few hours old in a wood pile. He was bottle raised by the Struz family but soon realized he had a disability as he wasn't moving or nursing like other kittens. After consulting with a veterinarian, it was determined he had Down syndrome. We found the best suitable place for him.

Forest joined the Riding High family in 2018 and has fast become the farm mascot, always around to give a little cuddle when needed or chase a blowing leave for a giggle or two. He is spoiled and loved by all.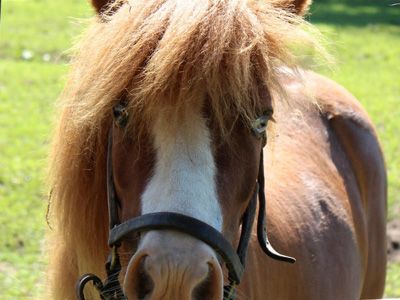 Harpo
Harpo is our Riding High Farm Resident Greeter. He is the first one at the gate to say hello and beg for a treat. Harpo was rescued and donated to our program from a local auction. He came to us feral and just a baby. With lots of love, patience and training, he is a special mini to everyone at the farm.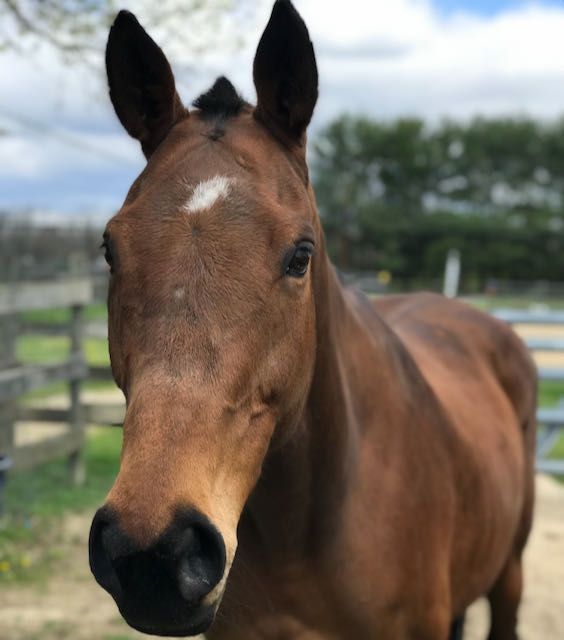 Honey
Honey joined our team in April 2022. She was donated to us from the Azra Equine Club in New Jersey. She is a former Polo Pony and after a long career, retired and started her next journey here at Riding High Farm. Her sweet, up for anything personality makes her a barn favorite for sure.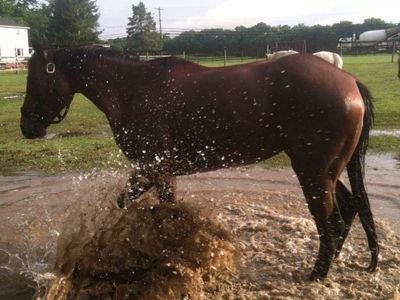 Jetta
Jetta was donated to our program in 2014 from Helping Hearts Equine Rescue. She came to the program very young with little to no training and over the years has grown into a wonderful caring partner to our younger clients. Jetta loves to play in the water.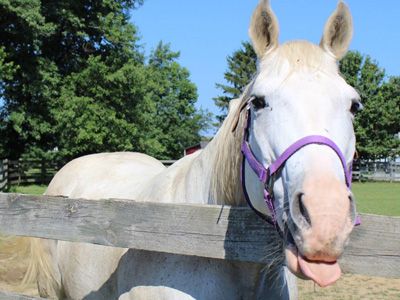 Jinx
Jinx was donated to us in 2016 by the Hill Family. He is our big guy and barn favorite with his "how can I help you" personality. His shiny white coat makes for lots of baths and fun for everyone.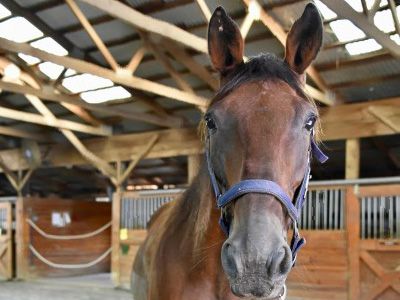 Magic
Magic Man was adopted from the Standardbred Retirement Foundation in 2010. Magic fits his name in so many ways. He is truly a gentle giant, the tallest horse in the program and the kindest soul.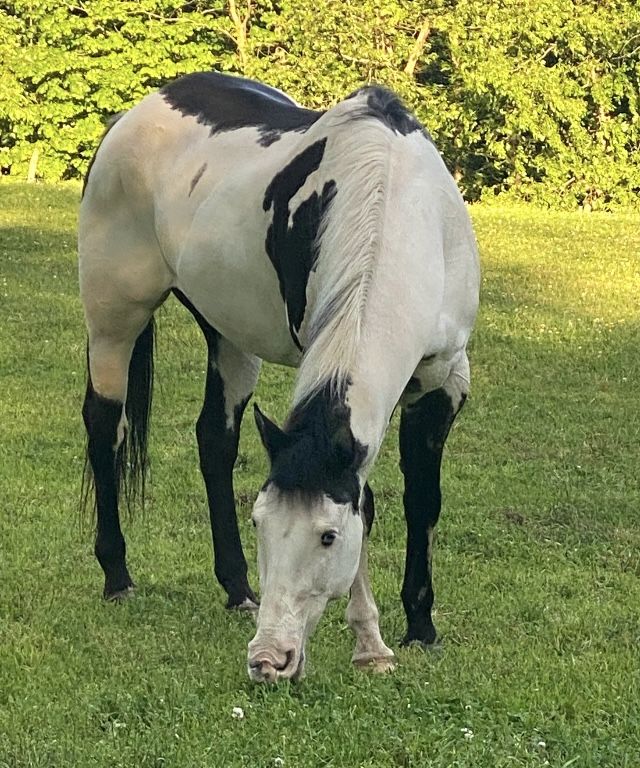 Miss Blue
Miss Blue was donated to the program in April 2021. She is officially retired from the racetrack where she used to help other horses get ready for race day. Miss Blue is a bit of a Diva so be prepared to pamper her when you see her.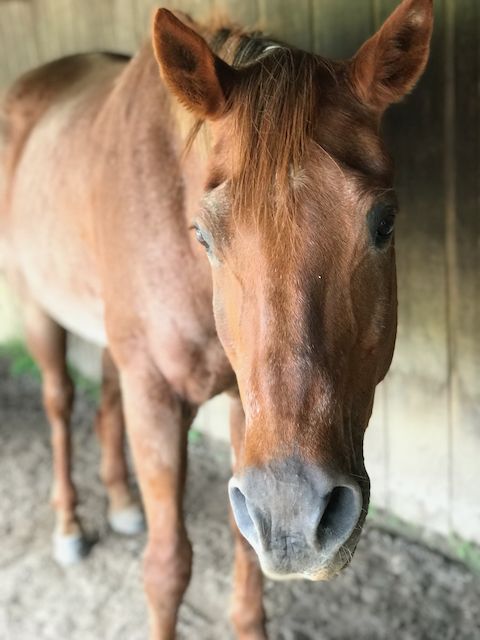 Mis'ta Magoo
Magoo AKA Mis'ta Magoo joined the team in June 2021. He's helping us out with our growing population of adult riders. Mis'ta Magoo loves to be groomed and is a master of the trails.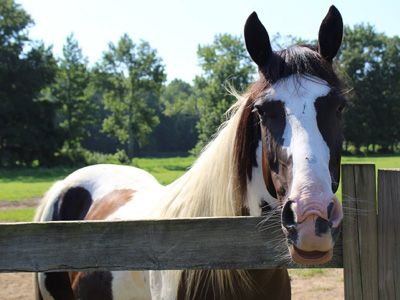 Oreo
Oreo was donated to us in 2016 from the Kampel family. He is our "Class Clown". As one of the young guys in the herd, he is always causing or finding some kind of trouble. Don't be surprised if you see him "horsing" around.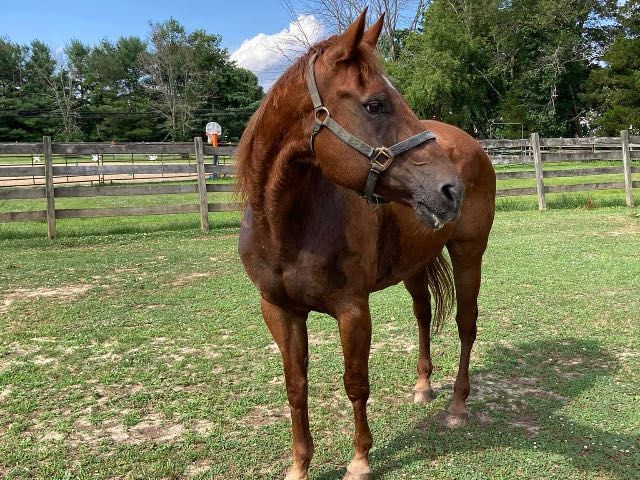 Parker
Parker is a quarter horse that joined our program in August 2022. Prior to making Riding High his home, his life was difficult, but now he is learning what true acceptance and love is all about.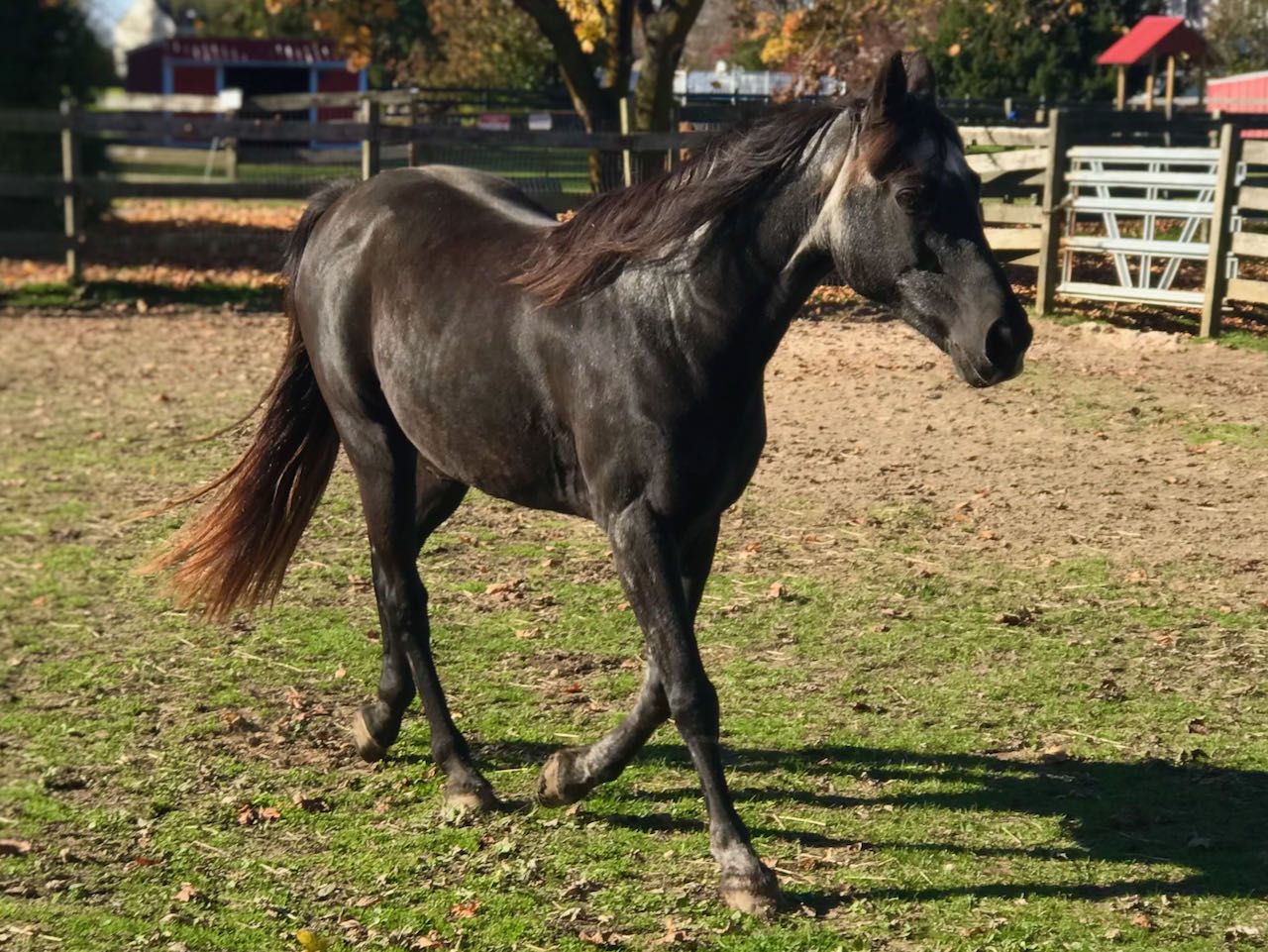 Scout
Scout came to RHF in October 2022 after the program he was working for closed. He needed a job and we are happy to have him. Scout is a gaited horse, more specifically a Tennessee Walker. This means that he can move each leg independently. By doing so one foot is constantly on the ground, allowing him to conserve more energy than he would while trotting. Gaited horses are used for traveling as they have greater stamina and endurance. His natural gait will be a new experience for our riders.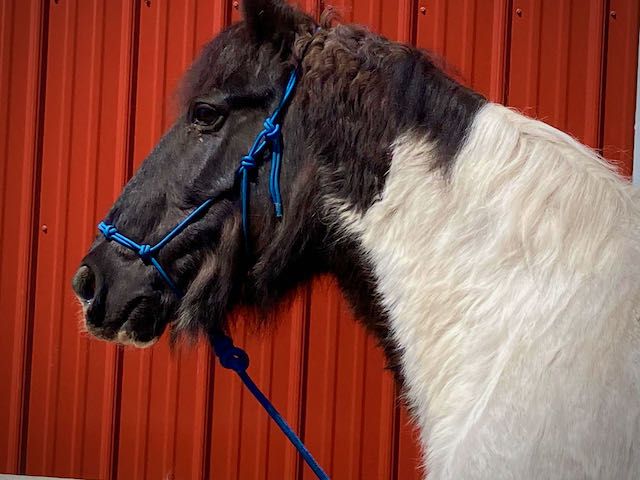 Silver
Hellooo, Silver!
They say it takes a village! Well, it took the love and support of many friends to help Riding High rescue Silver. Robyn originally set her sites on adding Violet to the program. While getting to know Violet, Robyn found Silver, and he stole her heart. She simply wasn't leaving him where he was, so with lots of fundraising we were able to add him to the program as well. Say "hi" to Silver when you see him on the farm — you can't miss him!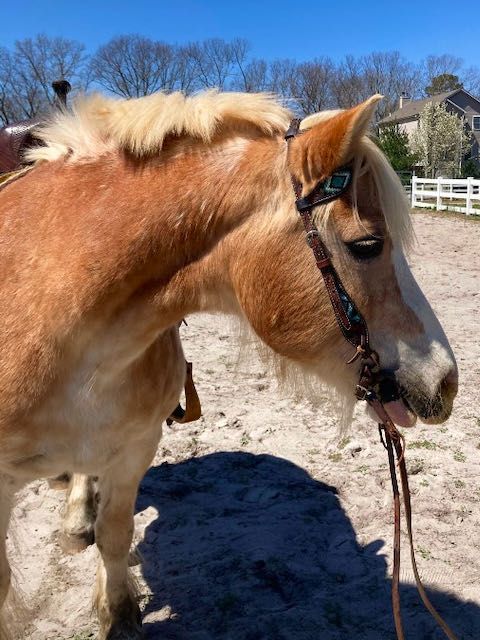 Violet
After searching high and low in four different states looking for the perfect pony, we found Violet. We were able to purchase Violet through our fundraising efforts, and she officially started her training in April 2023. Violet will play an important role in our program as a therapy pony. Check back for updates on our beautiful girl as she becomes part of the herd.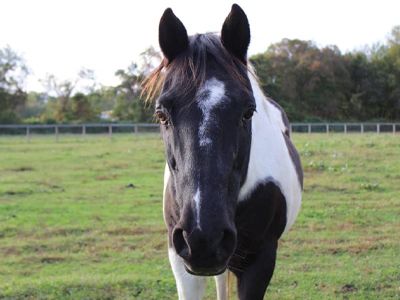 Willis
Buster Blue Boy AKA Willis is a registered American Paint Horse. He is one of the most gentle horses to participate in the program. While his cute face makes him approachable, most people fall in love with his goofy personality. He tilts his head and makes a grunting noise when he is asking for treats. Willis is definitely a special part of this program and is better for riders who are just beginning.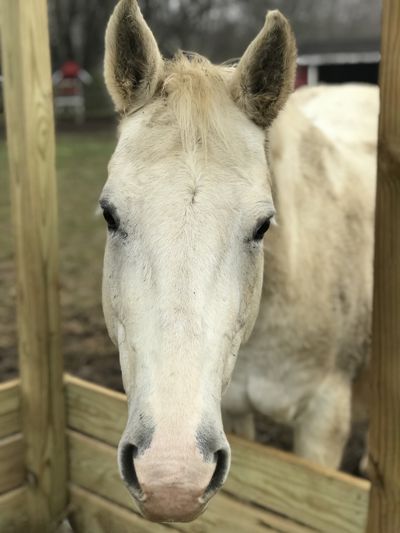 Zelda
Zelda is a quarter horse mare that joined the RHF team in December 2021. She is a rescue that came from a local barn that was downsizing.
Zelda loves her new job and has that "get the job done" personality. She has been a great addition to the family.