The staff at Riding High Farms is dedicated to meeting the individual needs of each student and helping them grow through the program. Each staff member is focused on a person's abilities and not their disabilities. Confidentiality is of great importance to us, and you can be assured that we work together to ensure that your privacy is protected. We consider ourselves a family, and we can't wait for you to join it.

Take a look at our pictures and bios. We look forward to meeting you.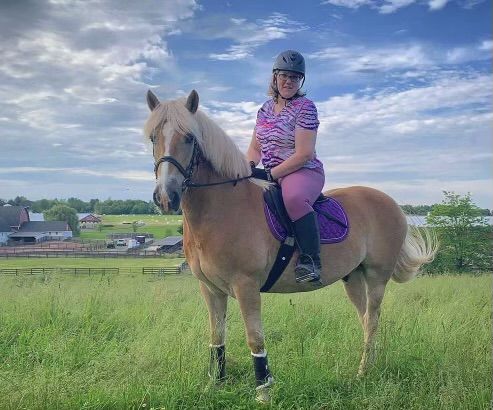 Julie Baker
Julie grew up in New Jersey with a love of horses her whole life. She started taking riding lessons as a young girl and has been hooked ever since. She owns a Haflinger gelding that she rescued, and together they do everything from trail riding, lower-level dressage, jumping and working cows! Julie works full time as a Sergeant for the NYC Parks Enforcement Patrol where she spent 5 years in the agency's mounted unit training horses and riding in parks all over New York City, including Central Park.  She is looking forward to working toward becoming a PATH certified instructor.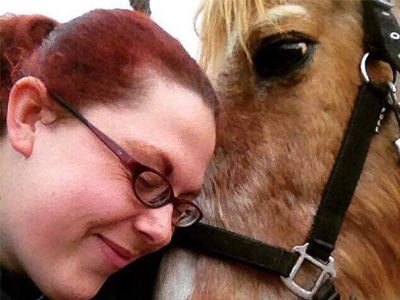 Rose Delpozo
Rose is our Barn Manager and Volunteer Coordinator here at Riding High Farm. In 2010 she spent 9 months in Florida attending Disney's College Program. While there, she obtained certificates in Psychology and Leadership. When she returned to NJ, she was a Kennel Manager and Veterinary Assistant for 4 years before she called Riding High her home. Outside of work, she takes pride in her ability to craft just about anything she dreams of. Her time is spent in parks or fairgrounds enjoying life to the fullest.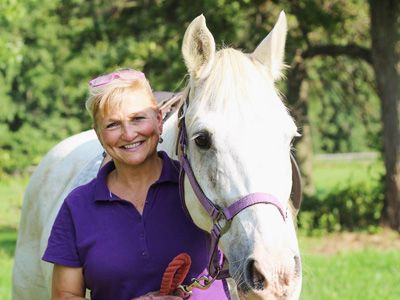 Judy Ford
Judy Ford began as a volunteer at Riding High Farm over 5 years ago. With the experience gained from the program and the support and encouragement of the staff and instructors, She became a Certified Riding Instructor through the PATH process. She loves each and every student at RHF along with every animal that lives here. In addition to her work at RHF, she is a Mom and an IT Professional for the State of New Jersey.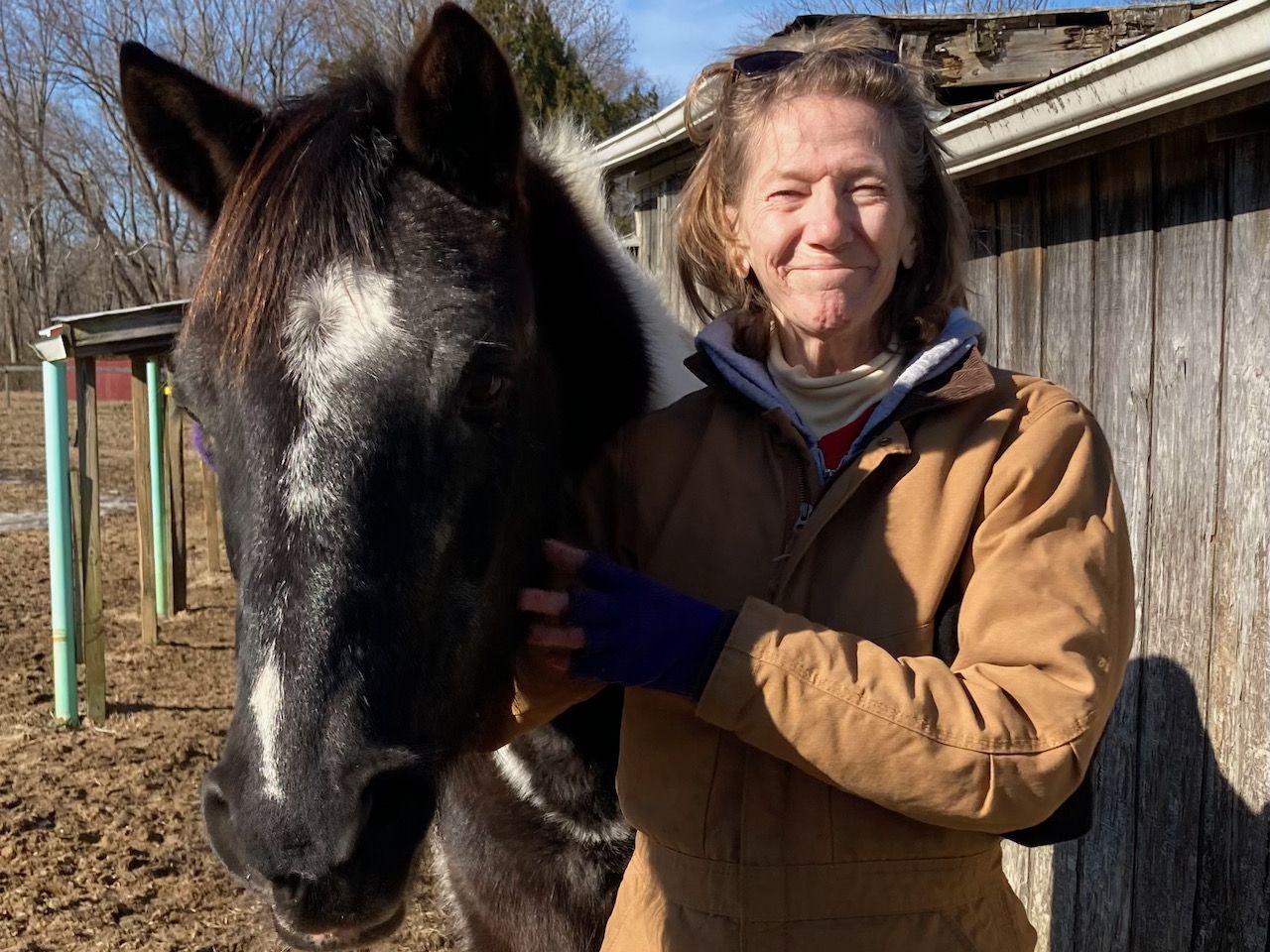 Linda Gentzik
Linda started volunteering at Riding High Farm after she retired in 2018. Her dedication and love for the program grew through the years. In 2020 she joined the team as an instructor's assistant and the Assistant Barn Manager. Linda is currently working toward becoming a certified Path Instructor.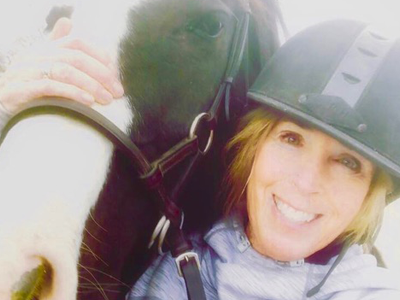 Kathy Harris
Kathy is a PATH certified instructor teaching individual and group sessions. She brings over 10 years of experience working with adults and children on the autism spectrum, those with physical disabilities and psycho-social disorders. Using equine assisted learning techniques she has taken on the roles of both a riding instructor and a lead instructor for an at-risk teen program. Kathy has a passion for working to effectuate change in lives through recreation, education, positive guidance and support.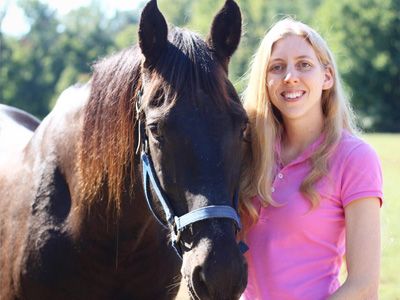 Tabitha C. Hilliard
After earning her master's degree in anthropology, Tabitha later received her PATH certification and began teaching at RHF in 2016. Today, Tabitha's interests in accessibility and disability services extend to her primary profession as a library assistant. She is an active member of her library's accessibility task force and also holds a Certificate in Disability Access and Inclusion.  In her spare time, Tabitha enjoys cooking, hiking, and leash-walking her cats.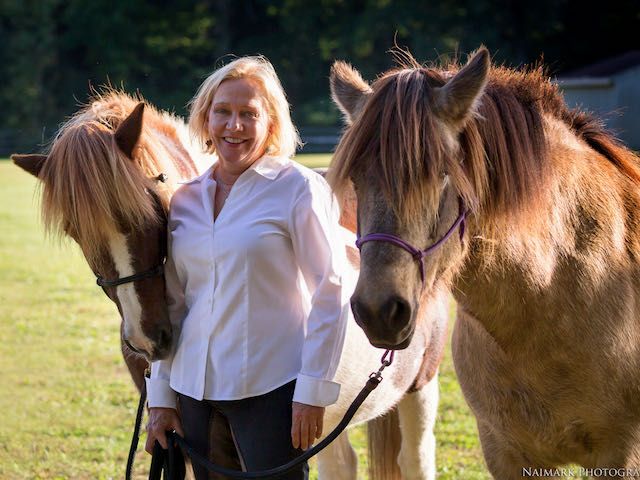 Carrie Hufnal
Carrie began as a volunteer at Riding High Farm before becoming a PATH Certified Therapeutic Riding Instructor. She has owned and worked with horses for over 25 years and has training in natural horsemanship techniques. When she isn't at RHF, you can find Carrie playing with her two Icelandic horses, Molly and Skjoni.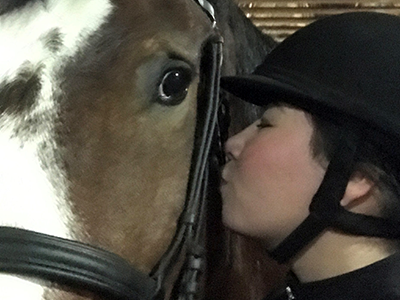 KIm Kenny
Kim started as a volunteer at Riding High in 2009. After seeing the difference therapeutic riding made in people's lives she decided to pursue a certification through the NARHA (now PATH) program offered at Centenary College. Upon completion of the program and passing the required testing she started working at Riding High as a certified instructor on the weekends. Since that time, she has transitioned to a substitute teacher at Riding High, but cherishes the times when she is able to fill in.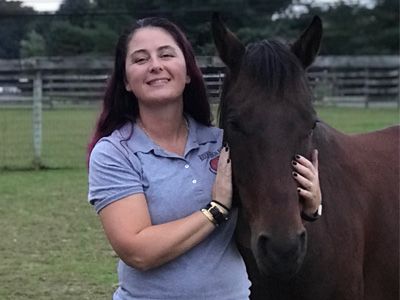 Sherry Mahon
Sherry started with RHF in 2002. She has a minor in equine science and is a certified Centered Riding Instructor. Sherry has 14 years of experience in education and is currently teaching Elementary Art.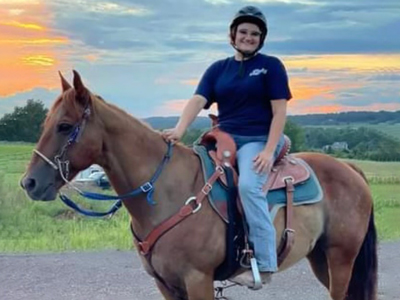 Chloe Nagy
Chloe has been riding and working with horses for ten years. She found great joy at a young age in assisting people through horses and teaching them about these marvelous animals. Chloe started out riding and competing in the English discipline and currently barrel races. She owns two quarter horses, and in the past decade she hasn't allowed a week to pass without being engaged in activities involving horses – including finding locations to ride while on vacation. Chloe is a volunteer trainer and lesson assistant. She plans to share her knowledge and love of horses with our program volunteers as well as learn and grow as an equestrian.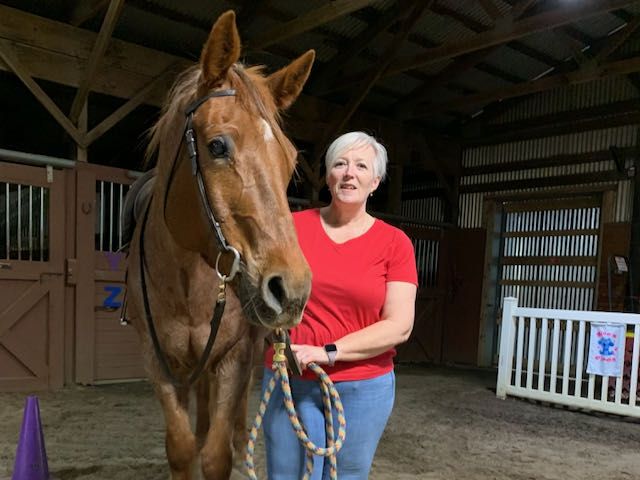 Julie D Nelson
Originally from England, Julie learned she had a love for horses at a very young age. After successfully raising a family in Las Vegas, NV, she found her self longing to be around horses again. Starting as a volunteer, she discovered a passion for helping others, especially those with special needs. Julie has been working hoof in hand with horses for 9 years, ground training and brushing up on her own riding skills. After moving to be closer to her youngest daughter and her family here in NJ in early 2020, Julie now works full time as a receptionist at a Veterinary Hospital and is also a PATH certified riding instructor at Riding High Farm. In her spare time, Julie enjoys spending time with her family and two beautiful grand-daughters.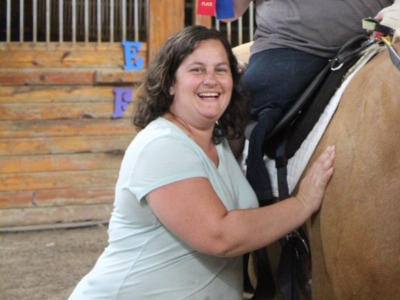 Lynsey Sandy
Lynsey is a Staff Instructor working on her PATH accreditation. With her outgoing and somewhat loud personality she is hard to miss around the program. Lynsey is a mom to four amazing children and works effortlessly with animal rescues that range from feathers to fur.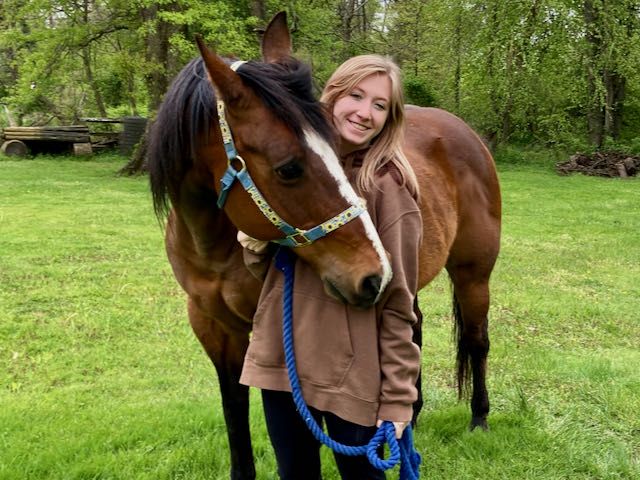 Kaitlyn Struz
Kait grew up here at Riding High Farm. As the Director's daughter, she was raised around horses and was fortunate to be around people with special needs from a young age. Kait never saw them as "different" — only equal. Kait's passion was softball, but she always managed to get in some pony love. As an adult she continued working with special needs children as both a behavioral technician and Instructor here at RHF. 
Kait hopes to complete her PATH accreditation in the coming year.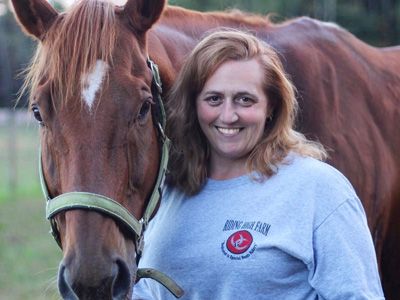 Robyn Struz
Robyn has been a part of the RHF team since 1999. She is currently the Director of Programs ensuring the day to day operations go smoothly for both human and horse staff. As a certified PATH Instructor, you will see her on the farm working with students and her team members. She is also certified in Mental Health and Learning, holds a certification in Occupational Therapy and Child Psychology and is a registered Behavioral Therapist. Robyn is a mom of two amazing kids and enjoys time with family and friends.