2nd Annual Distribution of Monmouth Park Charity Fund's Winners Circle Society Transformational Grant To Handicapped High Riders Club
Tinton Falls, NJ— On September 20, 2021 Monmouth Park Charity Fund's Winners Circle Society distributed their 2ndAnnual Transformational Grant in the amount of $21,500 to Handicapped High Riders Club as part of the Awards Reception at their Golf Invitational held at Suneagles Golf Course.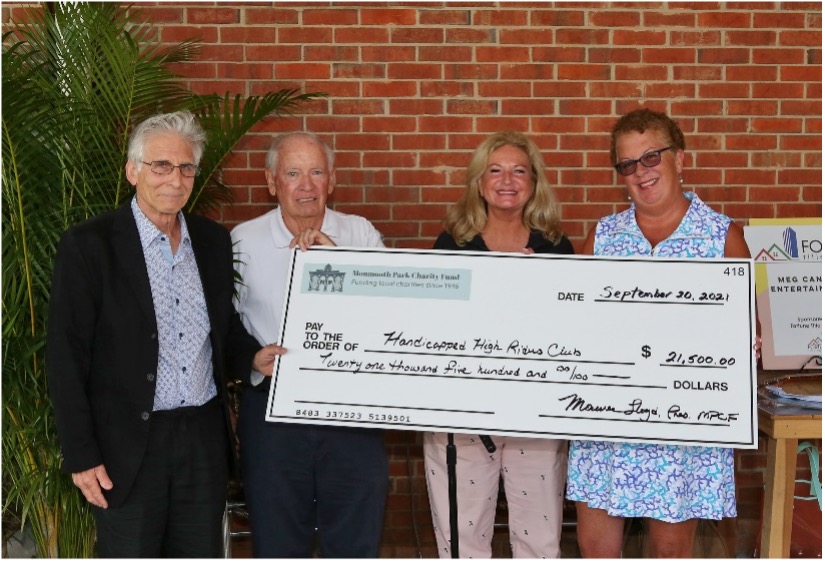 The Handicapped High Riders Club's mission is to enrich the lives of physically, cognitively, and emotionally challenged individuals through certified and accredited therapeutic horseback riding instructions that engage special needs persons in mainstream recreational activity to improve functioning in the areas described , while increasing feeling of acceptance, confidence, self-awareness, and physical balance and in some cases, modest employment. 
The grant will fund required facility and equipment upgrades to assure that the arena is safe for riders.  This one-time facility upgrade will transform their ability to upgrade safety and service capacity for long-term impact for their disabled riders. 
With twenty-three grant applicants, members of the Winners Circle Society took time to review all of the proposals to determine their final top three to consider for the grant funding.  Maureen and John Lloyd then hosted a lovely reception at their home for the three finalists to meet the members and give brief presentations.  Members also had the option of a ZOOM presentation. We are thrilled to provide such a positive impact our community!
Members of the Winners Circle Society are individuals dedicated to the health and well-being of our community, and to the mission of Monmouth Park Charity Fund.  Members, through the collective power of combined donations, influence creative and transformational funding pathways to meet the changing needs of Monmouth County Residents.  Together we transform lives.
Members make an annual donation of $500 or more designated to the Winners Circle Society. Donations raised through this Society are be split into two revenue streams. Half of the funds raised will go to MPCF sustaining funds and the other half is placed into the WCS Transformational Grant Fund. Members are invited to participate in determining how the grant funds are distributed.  To become a member and for more information please contact Debi Heptig, Director of Operations at (732) 571-5321 or email This email address is being protected from spambots. You need JavaScript enabled to view it. or visit us at www.mpcharityfund.org.